How to Live Without Google and Other Evil Tech Giants, Part 3
Click here for Part 1. Click here for Part 2.
Productivity
Clouds & Sync
➡️

Nextcloud is what you use if you need a cloud. Mine is empty – I only use it in rare occasions so someone can send me a file which I delete from the cloud once I downloaded it. So I don't have much to say here.

DAVx⁵ is a mobile app that let's you sync your contacts & calendar to your Nextcloud.

/e/ cloud is the cloud that comes with the /e/ mobile operating system. You can use it to automatically sync all your important data.
Office
➡️
Libre Office is a full office suite for desktop. I use it everyday and never missed a feature.
Framasoft is an awesome free software community from France that offers a lot of free online tools for collaborative work on documents among many, many other things. If you know French and another language please help them with translations.
Finance
Payment
➡️

Faircoin is a socialist cryptocurrency. If you want privacy during online payments there is probably no way around cryptocurrencies and since this article is about avoiding surveillance capitalism, why not go with an anti-capitalistic currency? Faircoin's growth rate is controlled and steady to avoid speculations. It is not mined and energy consumption during transactions is low to minimize the ecological impact which is very high for other cryptocurrencies.
Liberapay would be a great option for recurring payments/donations, but as it depends on Paypal and/or Stripe I can't recommend it (yet?).
Online Stores
➡️
Development
I'm not a developer. Not even slightly. So I'll keep this short.
Collaboration Platforms
➡️
Savannah (Freedom and Privacy Tip) is the right choice for 100% free software.
Gitlab.com (Beginner Tip) is a collaboration platform often recommended, e.g. by Prsim-break and it is the one F-Droid trusts with their data. ❗️ Beware though, Gitlab.com it is hosted on the Google cloud. The community edition is free software and can be used to power platforms hosted on other clouds. E.g.:
Notable mention: Gitea
Captcha
I passionately hate Google reCaptcha. There is so much tracking going on on the web that I can just block away – many sites will still work. But once a website developer chooses to use reCaptcha for a site where you need to register to use that's game over.
➡️
Other
➡️ Matomo is an open alternative to Google Analytics. Or here is a thought: Just don't analyze your customers/community at all!
➡️ Font Squirrel is a collection of free fonts you can use to replace Google Fonts.
➡️ Exoscale is an open source cloud hosting platform to replace all the evil clouds that you can block with Cloud Firewall.
Hardware
Generally: You'll want to go with hardware that runs the software we discussed before. If you already have a device where you can flash one of the privacy friendly operating systems I'd recommend you do that instead of buying a new device: Consider e-waste and resources! Also consider buying a used device and/or resell your old device.
Smartphones
➡️

Replicant-enabled devices (Freedom and Privacy Tip) are the first choice for privacy. They recommend the GTA04.
Fairphone (Environmental Tip) is my personal choice and recommendation. Their focus is on conflict-free resources, good working conditions and circular economy, but e.g. the FP2 also comes (came) with an unlocked bootloader, so many of the OSes mentioned before run on it. Also there is an active community avoiding Google which I am a part of.
Computers
➡️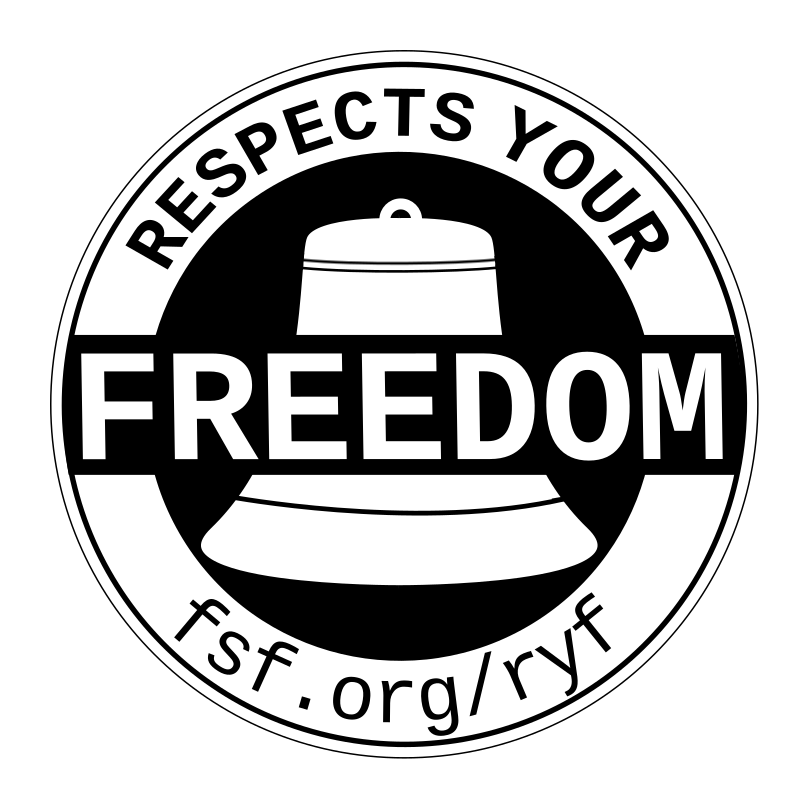 Freedom Tip: First choice for full freedom should be a device certified as Respects Your Freedom by the FSF. Second choice would be to get a device from h-node
Purism (Beginner Tip) is one of the manufacturers with devices available on h-node. Their Librem devices come with their before mentioned and FSF-endorsed PureOS. They are definitely high up on the list for my next device, not that that's anytime soon. I also recommend them for GNU/Linux beginners because compatibility between device and OS is surely not an issue if both come from the same company.
why! (Environmental Tip) is a Swiss company that makes repairable computers running Ubuntu. For Linux beginners I can really recommend them. My next computer (which will be in many, many years) will probably be something different though.
Other Devices
➡️ 🚫
First up: Avoid smart devices, especially home assistents like Amazon Echo, Google Home, Apple HomePod and smart watches like the Apple watch. You don't need them. You really don't, but if I can't convince you then get a Mycroft Mark.
For other devices check out the FSF recommendations and Mozilla's Privacy Not Included Guide.
Generally just avoid devices with sensors & an internet connection unless you can definitely trust them, which is only the case if they run free software.
Devices – even smart ones – without any sensors, without an internet connection and that don't require you to download a proprietary app on your phone where you need to log in with your personal data should be fine.
Some General Considerations
This concludes the main body of my guide on surveillance capitalism (though updates will follow). Since I got lots of feedback on other aspects of privacy and related topics I'm adding this general section.
The following is a categorized list of articles by people, organizations and communities who have more knowledge on these things than me. I added my thoughts every now and then as well as related tools that are mentioned in the articles and/or I can recommend. Links in the bold categories are to Wikipedia articles. Please let me know if important authors are missing.
Changelog
2019-04-08: Start of drafting
2019-04-13: Publication and initial edits based on great and numerous feedback (e.g. about Fedilab, Telegram, Signal, Tor Browser... )
2019-04-14: Added uMatrix, added other suggestions as notable mentions while explicitly not recommending others that are proprietary software.
2019-04-16: Added Mojeek and a few Linux distributions.
2019-04-17: Had to split article into two parts, because too many images; started replacing icons hosted on evil clouds and removed Brave (see motive).
2019-04-22: Finished replacing icons hosted on evil clouds – some are not really icons of the subject, but just images from Wikimedia that look somewhat similar.
2019-04-29: Published Part 3.
2019-05-01: Revamped the Desktop Operating Systems section with some new additions. Also started replacing words the FSF says to avoid.
2019-05-02: Added highlights for Beginner, Freedom, Privacy, Environmental and Overall tips in some sections.
2019-05-03: Added General Considerations section.
2019-05-06: Removed link to AlternativeTo. Here is why.
2019-05-10: Updated invidio.us with a tip from @kuketzblog.
2019-05-16: Added a few more browser addons.
2019-05-22: Updated the browsers section in celebration of the first stable release for the mobile Tor Browser.
2019-05-30: Rewrote the Instant Messaging section and the text about Tutanota. Part 1 reached 10.000 views today!